Match Reports
2's win the league
Priory Park Vs Old Isleworthians
Match Report – 12/08/17
Weather: Overcast with some bright spells
Match Start time: 1300
From the new kids on the block to Champions!!
We arrived at Priory Park to play our last league game of the season with a must win game to guarantee number one spot and to gain promotion.
After a 6 Vs 5 warm up of hand ball with a cricket ball and a few sore ankles later it was time for Alex and Priory Park captain David to go for the toss. Thankfully Alex won the toss and elected to bowl.
With our lads all warmed up (and a few ready for a tea break!) we headed on to the field ready to be let loose on the Priory Park lads.
And what a start we got off to with the top three all getting out for under 5 runs. We were on a roll with Alex leading the way with two and Jassi with one.
The PP boys changed tactics and slowed down the pace showing that they had more blocks than Bruce Lee and not looking to accumulate runs on the board.
With some great bowling, Jassi hit the top of off with a beauty breaking the 4th wicket partnership.
Alex finished his spell taking 4 wickets and Jassi taking 2.
On came out king of spin Haroon getting off to a blinder taking a wicket off his first ball with a stunning catch by Steven.
Steven started his spell from the other end.
The Priory Park boys dropped more wickets with not much on the board.
Steven finished with two wickets and Haroon closed Priory Parks innings by bowling the captain out top of off.
There you have it Old Isleworthians had 47 runs to finish off in number one spot.
Having bowled the opposition out for 47 we decided to have 10 minutes and get back straight on to what seemed an easy chase.
Out went AB and Shiva to open the batting showing good resilience and shot selection.
AB was the first wicket to drop for 13 getting a nick off his bat straight to first slip.
21-1.
In went Shaz playing his first game on a dry pitch this season who was bowled out for 5 runs Shortly Shiv was also gone bowled through the gate.
Old Isleworthians now three down with 26 on the board were looking a little rattled as Marcus, Azfar, Sukh and Zak all getting out with not much to show
36-7
In came Alex and was out for 2 hitting one straight back to the bowler
38-8
Now it was time for Haroon and Jassi to get us to the finish line.
They both showed class in not throwing away their wickets.
For all the lads on the sideline this was pressure at the highest level.
Old Isleworthians 41-8 and then out of nowhere BANG the biggest straight six by Jassi leveling the scores and settling all our nerves.
Next ball again went to hit the boundary for a four Jassi and Haroon celebrating with bats pointing to the sky and the Old Isleworthians lads running on to the pitch celebrating with a pitch invasion.
Absolutely thrilling end to the season with the Club gaining promotion and finishing off in number one spot.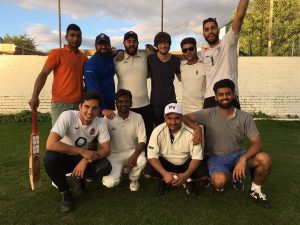 Match Report by
Azfar Farooqi,
Second Team Vice Captain
Saturday 4th July  v Bec Old Boys B – Home
Another convincing win against Bec Old Boys "B". Having lost the toss our oppo somewhat surprisingly chose to bat first, losing two wickets early on. Our bowling and fielding were probably not up to usual standards which allowed them to rack up 161, the pick was definitely Daniel O'Connell who bamboozled the batsmen (and the umpires at times with some firm LBW shouts) with 2/25 off his 10 overs. Everyone else picked up wickets, with two apiece for Skip, Joseph Winders and Charlie Robinson, while Sharif got the other. In reply Neil Mason and Mike Peries took us serenely to 86 before Pads chipped one back to the bowler. Pes brought up his 50 while Sharif batted beautifully for 44 off 21 balls as we finished the job by 9 wickets.
Saturday 27th June v West Byfleet Away
If you could bottle the Cricket experience, you'd do a lot worse than to use our match at West Byfleet today – not necessarily for the stuff on show but certainly for the spirit displayed by both sides and friendships made. After a lively start on a difficult track we managed to peg back our hosts to 137 all out – Skip took 3/29, Sharif 2/30 and debutant Roy bowled an Aylett-esque spell of 3/10 off 9 overs. Our heroes from last week, Pads and Pes,both fell for ducks leaving us 0/2. I dropped anchor while first Roy (30 off 24) then Sharif (77 off 45) teed off, Sharif's knock containing 5 sixes. Sharif departed near the end but I stuck it out with a painstaking 19 not out off 83 balls to see us home. Refreshment was then taken at their nearby social club. A superb day all round
Saturday 20th June v Norbury Green at Home
"Watch this space". In grey conditions we knocked the ball to all parts against Norbury Green, notching 288/3 off our 45. Cornerstone of the innings was the returning Neil Mason, whose last league innings back in 2013 was a century, with 121 not out, ably assisted by Mike Peries with 74 as they added 172 for the first wicket. Late innings biffing was provided in magnificent style by our version of Jos Buttler, Charlie Cook, who brought up a stunning 50 in just 27 balls. In reply they got off to a flyer, their opener taking particular liking to Skip struggling to adapt to the slope. We dropped him twice (guilty as charged for the second one), before Joseph Winders finally showed us old buggers how to do it, taking a nice catch to remove him off the spin of Daniel O'Connell, who removed their other danger man two balls later with a fine catch by Pes. However, at around 167/3 off 24 overs, and with Norbury Green well ahead on run rate albeit with rabbits at the crease (and only rabbits to come), the rain finally beat us. The sting in the tail, however, may be to follow, more on this when the league responds to our report…………..
Saturday 6th June v Ham & Petersham A at Home
Back on the field after last week's unfortunate blip, and back to winning ways in style.
Winning the toss but again short-handed at the start, we batted first.
Mujid Sharif, promoted to 3 due to the latecomers, made the most of it with a wonderful unbeaten 147 off 90 balls. Charlie Cook provided magnificent support at 8 with 35 as we reached a mammoth 283/7.
In reply Gary O'Connell ripped through the top order. A strong fifth wicket partnership threatened to make things interesting before Sharif decided he'd obviously not done enough with the bat, taking 5/43 as we eventually rolled Ham & Petersham "A" for 180.
Skip took the last wicket to finish with 4/25, but the MOM decision was pretty straightforward.
Onwards and upwards once again
Saturday 16th May v Park Hill at Home
We are top of the league, P3 W3 after a comprehensive win over the only other side with a 100% record.
Put in to bat, we racked up 192/9 off our 45, thanks mainly to a superb 87 not out from acting skip Mike Peries.
In reply Joseph Winders and debutant Mujid Sharif ripped through the top order before Daniel O'Connell bamboozled the rest to take 4 wickets and restrict Park Hill to 94 all out.
Fantastic display again with everyone busting a gut for the cause, feels so good to be winning games after last season!
Saturday 9th May v London Gymkhana at Home
Skipper O'Connell won the toss and elected to bat.
The first wicket fell at 40 off 4 overs . Peries 44 batting with a runner and leggy sam 53 put on 105 for the 2nd wicket.
Sharif , Brunton , Winders and Whittonite debutant Darren Rowe took Isle's thru to amass 224.
After a quality tea as usual at Wood Lane, O'Connell and Joe Winders opened up with the skipper bagging 4-33 off 10 leaving Bajua and leggy sam to clean up the tail.
2 out of 2
Saturday 2nd May v Bec Old Boys Away
Old isles won the toss and batted first .
Alex Minshull and Charlie H-C put on 30 for the first wicket after 15 overs . Just as we asked.
Vets Pez 64 and Shaz 30 kicked on to allow Dan O' 13 to guide us to 169 all out.
Old man Chris Prendegast bowled 10 amazing left arm swing overs 5-10 taking the heart out of Bec aided by the youthful joe Winders who bowled 10 overs right on the money.
Man of the match Alex Minshull threw down 6 overs 2-36 allowing Shaz and Dan O' to clean up 1 a piece.
Fantastic attitude and commitment to all involved and especially the Bec old boys skipper Ryan Hughes who was all that cricket is about on and off the field of play.