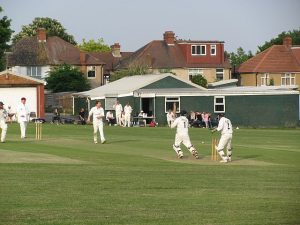 Old Isleworthians & Heston Cricket Club is a friendly club based in West London, with 2 Saturday teams playing in Middlesex Leagues and additional teams playing friendly games on some Saturdays and Sunday's.
We are a historic Cricket club with a great vision for the future and are now looking for new Cricket players for the 2018 season.
Competitive League adult cricket & Social adult cricket on Sundays
Indoor pre-season nets currently under way
Outdoor nets starting April 2018 and will run throughout the season every Tues & Thurs evenings
Great bar facilities including Sky TV too watch all Sports open all year round
Great friendly open atmosphere for all!!
BOTH TEAMS GET PROMOTED IN 2017!!!
Our First Team won promotion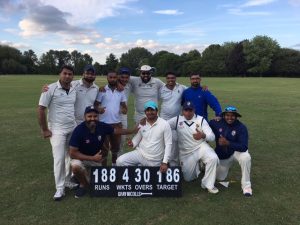 Our Second Team won the League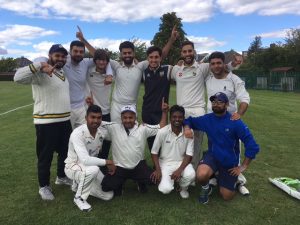 After a hugely successful season we are now in the process of planning for next season as we move into the higher leagues where the standard will be a tougher challenge and we are starting the recruiting drive for new players now!!
We offer fantastic opportunities for competitive cricket with great facilities and we hire our beautiful ground out to corporate clients and clubs and are very proud to host an M.C.C match once a year.
2017 has been a truly memorable year with our first XI challenging for the title and winning promotion on the last day of the season and it was even better for our 2nd Eleven winning the league also on the final day with some fantastic celebrations.
If you are looking to join a cricket club for the first time for next summer or looking for a new challenge with a club with an exciting vision for the future with a lovely friendly bunch of players then please get in touch with Alex – sos14@hotmail.co.uk
This is an hugely exciting time to be part of Old Isleworthians & Heston Cricket Club.
We have had a complete revamp of our playing members with a huge influx of new players, a new coach and two new captains to make us the best place to play cricket in west London
We are constantly looking for players of all ages and skills but particularly teenagers who want to develop their game in a friendly, positive, competitive but fun environment.
We have two adult teams playing in the Middlesex leagues on Saturdays, one senior team playing friendly fixtures on Sundays.
Our pre-season nets are at an indoor school in the local area, if you would like to meet some of the players and brush off the cobwebs please get in touch.
If you would like to be part of this new great new era at Old Isleworthians Cricket Club, please get in touch!!!
We look forward to hearing from you
Cricket Kit
Our club Playing and training kit is available from our online shop, run by Mr Cricket, see link below. Orders will be delivered direct to players' homes/offices.
http://www.mrcricketshop.co.uk/cricket/club-shop/old-isleworthians-heston-cricket-club/       password – OIH653
Hon. Life President: Terry Covacie
Secretary: Barry Martin
Chairman: Mike Peries
Secretary & Club Coach: Alex Thamby – sos14@hotmail.co.uk
Treasurer: Charlie Robinson
Fixtures Sec: Mike Peries – mikeperies311@btinternet.com
Club Captain: Simon Fisher
Details of the Middlesex 1987 League the 1st Team will play in can be found here and our full results here
Match reports can be found here